Superior Home Inspection Services at Affordable Prices
At Coast to City Inspections, we abide by the InterNACHI Standards of Practice (SOP) and go above and beyond to offer the best inspection services possible at prices our clients can afford. Our inspections are designed to give you a full understanding of your prospective home and include a visual assessment of the following accessible areas: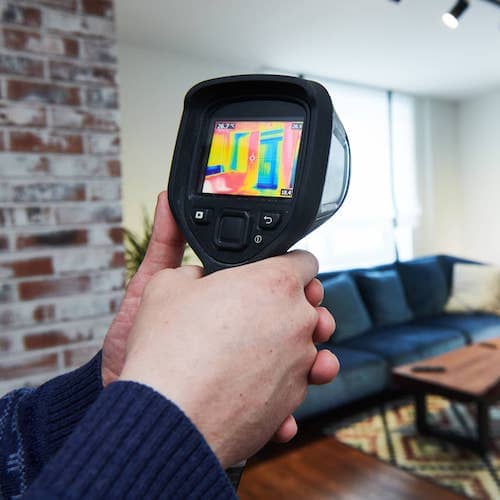 An infrared camera allows us to see abnormal temperature variations that are invisible to the naked eye. This can help us identify issues that might otherwise go unnoticed, such as hidden moisture or leaks, improper or missing insulation and electrical hotspots.
During the Buyer's Inspection, we uncover the condition of a home and find its significant defects so that buyers understand exactly what they'll be investing in. This allows for confident decision making and saves money on post-purchase repairs.
A Pre-Listing Inspection is completed before a seller puts their home on the market. During the inspection, we find the issues that may exist so that the seller can repair them before listing, making the home more attractive to potential buyers and giving the sellers the information they need to communicate honestly during a real estate transaction.
MOBILE/ MANUFACTURED HOME INSPECTION
Mobile and manufactured homes have unique structural and other standards that make them different from the usual residential home. We are experienced with these differences and offer Mobile/Manufactured Home Inspections to help buyers, sellers, and owners understand the home's condition.
WIND MITIGATION INSPECTION
Many insurance providers in the area will require a Wind Mitigation Inspection to be completed on the property. This can result in certain discounts on your policy. During the inspection, we perform the State-authorized checklist to see how equipped the home is to withstand wind damage in the future.
When writing a policy, your insurance provider may request a report on what they consider the home's four most important areas, to determine insurability. During a 4 Point Inspection, we assess the general condition of the home's roof, electrical system, plumbing system, and HVAC system. Occasionally, repairs will need to be done to satisfy the insurance company. This inspection is significantly less in scope and detail than a full Home Inspection.
NEW CONSTRUCTION INSPECTION
After a home is built, it's important to be sure that it is move-in ready and safe before the final walk-through with the builder. During the New Construction Inspection, we inspection may reveal oversights made during the building process so that they can be promptly addressed.
11TH MONTH WARRANTY INSPECTION
A newly built home is often sold with a builder's warranty, which covers the cost of repairing defects in construction for one year. During the 11th Month Warranty Inspection, we look for issues your warranty covers so that you know exactly what repairs to request before it ends.
HOME MAINTENANCE INSPECTION
During a Home Maintenance Inspection, we find any minor issues or safety concerns in the home that can be repaired now so that you can avoid expensive, major damages down the line. This is not a full Home Inspection.
A Re-Inspection can offer buyers some additional peace of mind after a home inspection. Once the repairs you requested after the initial inspection have been completed, we will return to the property to make sure that repairs have actually been performed.
COMMERCIAL PROPERTY INSPECTION
A commercial property is a huge investment, so you want to be sure that you know exactly what you're getting into before closing. We offer Commercial Property Inspections for light commercial buildings, including many types of industrial spaces, office buildings, warehouses, etc. up to 15,000 square feet or apartment buildings up to 15 units.